Most of us have heard of Virtual Power Plants (VPP), while considering installing solar panels, solar inverters and batteries. Clean Energy Council shares the data stating Almost 3 million households now enjoy the benefits of rooftop solar across Australia. A virtual power plant is a combined network of renewable energy sources that is the energy from Solar PV System, Solar batteries and smart appliances. They function together as a combined source of power and are monitored through a cloud based technology to meet the scarcity and adjust the access energy in as and when required.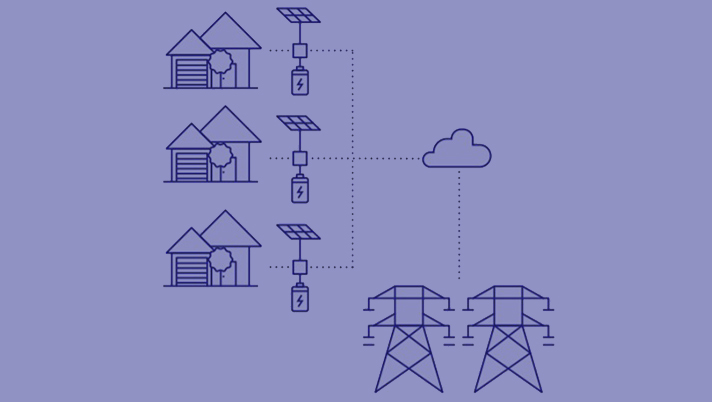 What are the benefits of VPP?
Selling Excess Power: One of the most obvious reasons to install solar is "Solar Saves Us Money". One of the biggest benefits of being a part of a Virtual Power Plant is you can make money by selling the excess power in times of need. Recently, in an article we talked about how the power costs are rising and the fact that the wholesale electricity prices have risen by almost 141% every year. As these costs keep differing from time to time, VPPs can still help you take additional benefits of solar and the energy generated through it by helping you make extra credits.
Stabilizes The Grid: Solar Energy is a new perspective of shine. Gone are the days when burning fossil fuels was the only way to generate electricity. With Virtual Power Plants in place, it has become easy to stabilize the grid. In the periods of high demands, the power from the combined network gathered centrally is used and you are paid credits for the same.
Sustainable Energy: You will be a part of Australia's green energy revolution in the coming times by connecting your solar to the grid. Renewable Energy is for a Sustainable World. According to a new report by the climate council Doubling renewable energy would grow Australia's GDP by 1.7%. 24 million jobs would be created globally if renewable capacity were to double by 2030. We can all be a part of green energy by connecting our solar to the grid.
How can you be a part of the VPP program?
There are several energy retailers that now offer access to Virtual Power Plants. However, it is important to think carefully of the battery option you consider for it. Speak to our team at Solar Miner to learn more about the options suited for your property.
Eligibility criteria for VPP:
If you are a residential household owner in NSW, QLD, ACT, Victoria and SA you can be a part of this program. However, it is based on postcodes and your energy retailer. Check your eligibility. 
If your house is feasible for solar panel and solar battery installation, you can go online with this program.
Switch to Green, Clean and Smart Energy with Solar Miner
Solar energy is the leading source of renewable energy across our nation and has proven to be highly cost effective. The federal and state government rebates and feed in tariffs make it financially effective to install rooftop solar. Solar panel rebates in Victoria are available for up to $1400 with an additional option of an interest free loan of the same amount. So why wait to go solar? Now is certainly the best time to install solar. Claim the Victorian government rebate with Solar Miner and take advantage of the available stock before the prices hike for the solar.