SMA is a German based company dealing in solar inverters worldwide. SMA has established a strong base In Australia because it offers high performing grid tied solar inverters for residential and commercial purposes. SMA is known for the reliability of its products. If you have been looking for solar and have come across SMA brand and are wondering about its review, you have landed at the right page. In this article we shall discuss the prices, functions, features and performance of the SMA inverters.
Best residential inverter – SMA Sunny Boy
SMA sunny boy is a basic string inverter, which works best with proper panel orientation and no shading issues. If your property receives a fair amount of sunlight and does not have some major issues like shading from the tree then this inverter shall work perfectly fine. For residential on grid solar systems, SMA offers 3kW to 7.7kW size models. The peak efficiency of this inverter is 97.5% which is among the highest efficiencies. It offers a standard 10 years of warranty, however, this inverter doesn't call for much maintenance over the lifespan of solar. Installing a correct inverter is essential for your home, budget and reducing electricity bills. Our team at Solar Miner can help you analyze the bills and correctly size your solar system.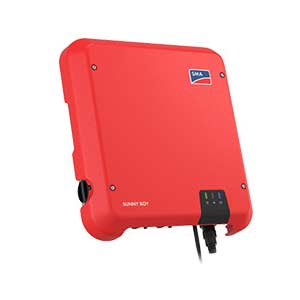 Best commercial inverter – SMA Tripower & Tripower Core 1
SMA Tripower is a medium sized compact inverter used for residential and commercial purposes. The capacity ranges from 3kW to 10kW. The maximum efficiency of some models in this range is 98.4%. They are exceptionally reliable for large commercial use. SMA Tripower core 1 one of the most powerful inverters. The capacity ranges from 50kW to 100kW. It is known for its design as it is designed in a way that it can be easily installed. The efficiency and performance of this inverter is unbeatable as it exceeds the standards. The warranty of both these inverters can be extended up to 20 years. By having a Commercial Solar System from Solar Miner for your business you'll contribute positively to the ROI of your business and also you will start to contribute towards the wellbeing of our planet. It is believed that the businesses around the World consume a major part of electricity and we Australians are no different. Commercial solar systems, thus, can help you reduce your power consumption from the conventional sources of electricity, specifically coal, and thereby help you to reduce your carbon footprint.
The cost of SMA inverters
The cost of Sunnboy SMA ranges from $1700 to $2000. The Tripower prices range from $2800 to $3500 and the price of Tripower core 1 ranges from $4000 to $5500. However, it is worth investing in SMA inverters. Their performance exceeds the cost of installing them, thus leading to positive cash flow in the long run.
So is SMA a good brand?
Yes, in our point of view, you cannot go wrong with SMA inverters. It is one of those inverter brands that has really maintained its level over the past 20 years. It has never fallen back on offering proven performance and reliability.
The importance of choosing right inverter
There are several inverter brands available in the Australia solar market, however, choosing the right kind of inverter with appropriate size is important. It is necessary to read the review of various brands offered to you and research about their efficiency and performance. And most importantly it is necessary to get your solar quote from CEC accredited solar retailer like Solar Miner as they shall maintain the installation standards and install a system based on your budget and property needs.